Naked mini golf world record 'set' in Southend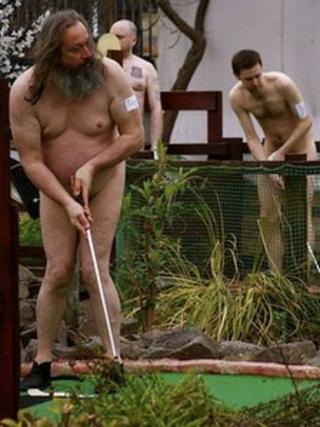 A record for the number of naked people playing mini golf in one hour has been set in Essex, organisers have claimed.
Thirty people stripped-off in cold conditions to play the 18-hole course at the Adventure Island in Southend.
The attempt will now be sent to Guinness World Records to be verified as a new world record.
Event co-ordinator Tracy Jones said: "With them having to bend down to retrieve the balls from the holes, it made for some interesting sights."
She added: "It was certainly quite chilly down there this morning and there were quite a lot of goose bumps.
"But people very much got into the spirit of it, stripped off and got on with it."
'Naked ambition'
Mrs Jones said they had been set a minimum number of 30 "brave souls" for it to be considered by Guinness World Records.
People from as far afield as Durham, Dorset and Birmingham took part in the event, which was held away from the public gaze.
Among them were several who broke the world record for the most naked people to ride a roller coaster at the same venue in 2010.
The record attempt also raised £3,000 for The Prostate Cancer Charity.
Its director of fundraising Mark Bishop praised the "naked ambition" of the golfers.
"We are truly in awe of the courageous characters who bared all in the name of prostate cancer and cannot thank them enough," he said.