Titanic 100: The Essex priest who refused to leave passengers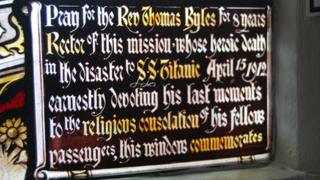 In the corner of a stained-glass window in a small Essex church is an inscription asking for people to pray for one of its former priests.
It describes how he "earnestly devoted his last moments to the religious consolation of his fellow passengers".
Father Thomas Byles, rector at St Helen's Roman Catholic church in Chipping Ongar for eight years, was among the 1,500 people to perish aboard the SS Titanic on 15 April 1912.
This small memorial means his actions, which were praised by Pope Pius X, will never be forgotten by the parish he once served.
'Spiritual sustenance'
Father Byles, originally from Staffordshire, was ordained as a priest in 1902 and came to the Catholic Parish of Ongar and Doddinghurst three years later.
According to the current priest at St Andrew's church, Father Andrew Hurley, he was "much loved and appreciated by the people of the parish".
Such was their affection, when Father Byles was invited to officiate at his brother's wedding in New York, parishioners helped pay for his trip on the liner.
Father Hurley explained how Father Byles had said Mass for second-class passengers on the morning of the disaster.
In it he talked about the "spiritual lifeboats that take us to God".
Following the iceberg strike on 14 April, eyewitness accounts told how Father Byles refused several offers to board a lifeboat.
Instead, he remained on board to help others to lifeboats, take confessions, offer absolution and pray with those still on board as the ship went down.
His body was never recovered.
'Gentle pastor'
Father Hurley said: "He had the opportunity to take a lifeboat and come to safety.
"But he stayed with the people, prayed with them, gave them spiritual sustenance.
"After it was all over, his family came over and went to see the Pope [Pius X], who apparently said he was a martyr."
In the ship's final moments Father Byles prayed with the 100 plus passengers trapped at the stern - Protestants, Catholics and Jews knelt in the rising waters as he gave absolution to all.
Father Hurley said there remained plenty of interest in the story of Father Byles, locally and internationally.
"We've had a number of people who have enquired about him," he said.
"The last one was a young girl in America, doing a thesis about him who wanted to have information and photos.
School plaque
"The more I think about him and the more I've heard about him, I realise what a gentle pastor he was to his people."
To mark the centenary of his death, his former church has organised a talk about Father Byles' life on 15 April and will show a short film made by the former rector of Doddinghurst.
A memorial plaque commemorating Father Byles is also being unveiled at Rossall Public School in Fleetwood, Lancashire, by the Roman Catholic Bishop of Lancaster the Right Rev Michael Campbell on 2 May in the school chapel.
The priest was a former pupil of the school, which was founded to educate the sons of Anglican clergy.
Although his father was an Anglican vicar, he eventually converted to the Roman Catholic faith.