Stansted Airport Easter strike: Employers and union in talks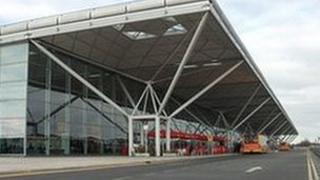 Talks to avert a strike by ground staff at Stansted Airport in Essex over Easter are due to be held later.
The GMB union will meet employers Swissport after threatening a walk out in a row over pay on Good Friday, Saturday and Easter Monday.
Members of the union voted to strike amid fears of pay cuts of up to £1,000 a year caused by shift changes.
Swissport said proposed changes were being made to avoid job losses as revenues had fallen.
GMB official Gary Pearce said: "These talks are an opportunity for Swissport to sort out the shift patterns that are putting an unacceptable burden on GMB members' incomes."
Richard Prince, general manager of Swissport Stansted, said they were asking workers to spread their hours over five days instead of four to avoid pay cuts and job losses.
The workers are threatening to strike between 06:00 BST and 08:00 BST, and 16:00 BST and 18:00 BST, on the three days unless the dispute is resolved.