Southend Pier to fully reopen in time for Easter weekend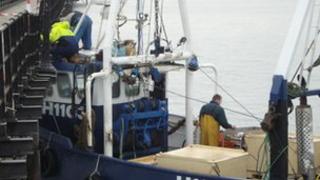 An Essex pleasure pier which closed after being struck by a fishing vessel in February will fully reopen ahead of the Easter weekend.
Southend Pier was hit by the local fishing trawler on 17 February, damaging a section of its walkway.
Southend Borough Council said the entire pier, including its railway could now be used as further repairs could take place with the pier open.
The walkway has been partially open at weekends only since early March.
The pier strike damaged two vertical support pilings, two horizontal beams and cross bracings about a quarter of a mile from shore.
Anita Thornberry, the council's head of enterprise, tourism and regeneration, said: "Council staff involved in the work and our engineers have pulled out all the stops to enable us to get up and running again for one of the busiest weekends of the year."
The incident in February was the 17th time the 1.3 mile (2.16km) pier, one of the longest pleasure piers in the world, had been hit by a ship.
Last September, the pier had to close for three weeks when the end of the structure was hit by a barge.