London 2012: Essex Ambassadors Olympic volunteers get uniforms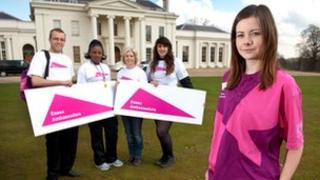 The uniforms volunteer stewards will wear in Essex to assist with the hosting of the London 2012 Olympic and Paralympic Games have been revealed.
The "Essex Ambassadors" scheme, run by Essex County Council, will see more than 300 people acting as stewards at a number of locations during the games.
They will assist visitors at several transport hubs and the Olympic Torch Relay events in July.
Training will take place at several venues throughout April and May.
The volunteers are in addition to the 70,000 volunteers recruited by games organisers Locog.
They will welcome visitors travelling through Stansted and Southend airports, plus Harwich International Port and train stations on main lines into Stratford.
They will also be at the "Sparks Will Fly" finale event at Hylands Park in Chelmsford on 6 July, as part of the overnight halt for the Olympic torch.
One of the volunteers, 16-year-old Charlotte Semmence from Chelmsford, said: "I am so excited about being selected as a volunteer.
"This is a once in a lifetime opportunity and I cannot wait to get out there and help out."