Volunteers protect avocets on Two Tree Island in Essex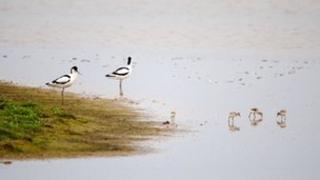 Volunteers are being asked to help protect rare avocet chicks from thieves on a special island in Essex.
People are needed to monitor this year's young, as part of the Egg Watch project on Two Tree Island.
Six chicks were successfully hatched on the island last year, but double that number were stolen.
Matthew Gonshaw, from east London, was jailed in December for stealing hundreds of birds eggs, including 12 avocet eggs from the reserve.
The avocet is a black and white wader with a long curved-up beak and distinctive blue legs, mainly found in coastal areas of Essex, Suffolk, Norfolk and Kent.
The species became extinct in Britain in the 19th Century, but was reintroduced in the 1940s.
Two Tree Island is one of fewer than 20 sites in Essex where the protected birds breed.
'Vital importance'
It is illegal to take, injure or kill an avocet or destroy its nest or young.
Egg Watch was set up by the Essex Wildlife Trust in 2006 after a spate of egg thefts on the island in previous years just days before they were due to hatch.
Volunteers are needed to monitor the birds around the clock, over four time slots each day between 16 April and June 15.
In previous years, supporters have come from Southend and other parts of Essex, a spokeswoman for the project said.
But some volunteers had travelled from as far as County Durham to monitor the eggs and chicks, she added.
Louise Morris, Southend environmental projects manager, said Gonshaw's sentencing showed the birds on Two Tree Island needed round-the-clock protection from thieves.
"It's a great reason to visit this superb nature reserve as well as potentially very rewarding bird watching and of vital importance to our wonderful avocets," she said.
The Egg Watch project is run by Southend-on-Sea Borough Council with Essex Wildlife Trust and Essex Police.