Clacton house collapse: Fund set up for homeless families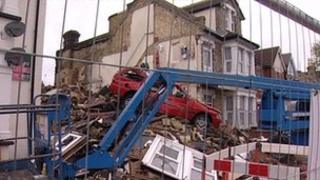 An appeal has been set up to help families made homeless after a house collapsed following a suspected gas explosion in Essex.
The building in Wellesley Road, Clacton, which had been converted into flats, was destroyed on 2 April.
Six people were rescued, with one women sustaining serious burns. An investigation into the cause continues.
The local Rotary Club has set up a fund to help all those affected, donating an initial £1,000.
The charity is also co-ordinating a collection of clothes, children's toys and furniture at a nearby newsagents.
'Community concern'
Three families are believed to have been left homeless by the explosion.
Raymond Hansen from the Rotary Club said he hoped businesses, service organisations and local people would be able to help with the fund.
"There is concern within the community that these people are going to need help," he said.
We hope to collect enough money so we can get them started again, wherever they're re-housed."
About £13,000 was raised by a similar fund set up by the club to help five people left homeless after a fire destroyed a row of houses in Harwich in December.