Clacton house collapse: Injured woman dies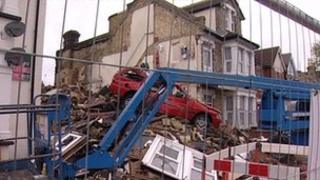 A woman injured when a house collapsed following a suspected gas explosion in Essex has died in hospital.
Andree Maffey, 80, was one of six people rescued from a building in Wellesley Road, Clacton, which was destroyed on 2 April.
Ms Maffey was taken to a specialist burns unit at Broomfield Hospital in Essex, where she died over the weekend, a hospital spokeswoman said.
An investigation into the cause of the blast is still under way.