Fishwives Choir set up in aid of Fishermen's Mission charity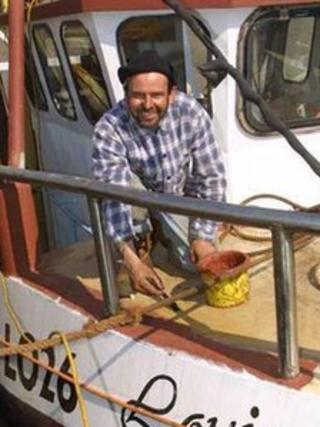 The widow of an Essex fisherman is setting up a choir, inspired by the Military Wives, to help support other families of those lost at sea.
Colin Dolby, 47, from Leigh-on-Sea, went missing while fishing in bad weather in 2008. His body was found a year later.
His wife Jane has now started "The Fishwives Choir" to record a single for the Fishermen's Mission charity.
She hopes to involve women from fishing communities around the UK.
Mrs Dolby said: "My background is music and I work in music PR, so I'm in the position of having two feet in two worlds and I'm hoping to bring those two worlds together.
"Potentially it's a massive project, or it might stay quite small. But I hope it will be big."
'Can't sing'
Mrs Dolby said her phone "hasn't stopped ringing" since she launched the idea on social media sites earlier this week.
She added: "A lot of women have said 'oh I can't sing' but that's got nothing to do with it.
"The choir is all about heart, not about how well you can sing."
Mrs Dolby said she had received "the most incredible support" from the Fishermen's Mission charity following the disappearance of her husband.
"They stayed central to our lives for the whole time. They supported us spiritually and financially," she said.
"Because Colin's body was missing I couldn't get a death certificate to prove he was dead, so I couldn't claim any benefits and had no income.
"The Fishermen's Mission provided us with money and food. They helped us to survive."