David Oakes 'killed ex-partner and child in violent row'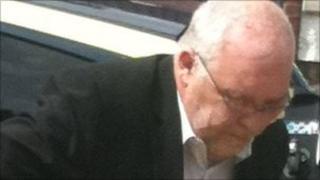 A "violent and domineering" man accused of shooting dead his ex-partner and two-year-old child attempted to blame others for the deaths, a court heard.
David Oakes, 50, allegedly murdered Christine Chambers, 38, and toddler Shania following a violent row at Miss Chambers' Essex home on 6 June 2011.
Chelmsford Crown Court heard Mr Oakes, who prosecutors said was fuelled by jealousy, was found semi-conscious after apparently shooting himself.
He denies two counts of murder.
The court heard Mr Oakes, of Canney Road, Steeple, Essex, and Miss Chambers had been due to go to court in a custody battle over Shania hours later.
Grapple
Three days earlier, Mr Oakes had allegedly told Miss Chambers: "I won't let anyone else have her (Shania). I won't let anybody else be called daddy by my daughter."
Prosecutor Orlando Pownall said: "It is the prosecution's case that the defendant, fuelled by jealousy, frustrated by the fact that his relationship with Christine Chambers was over and that he would only have limited access to Shania, determined that he would kill them and then himself.
"He succeeded in the first part of his ambitions but failed in his attempt on his own life."
Mr Oakes claimed he had become involved in a struggle with Miss Chambers at her home in Braintree, leading to both of them being shot.
He alleged Shania was shot as they grappled with each other.
In another account to police, Mr Oakes alleged the fatal shot was fired at Shania from the bedroom of the house while he was in the "vicinity of the landing".
But Mr Pownall, who described Mr Oakes as "violent and domineering", said the defendant's story was a "distortion of the truth".
Mr Oakes had attempted to "contrive a version of events that places the blame for what occurs on others", he said.
Mr Pownall told the jury: "We suggest when having heard all of the evidence you can be sure that he murdered his partner, and Shania, and try as he might, there's nobody to blame but himself."
'Degrading assaults'
The court heard Mr Oakes allegedly attacked Miss Chambers, hitting her and forcing her to cut clumps of her own hair off, before shooting her several times.
Shania had been shot at point blank range, jurors were told.
Mr Pownall said: "When he arrived at about midnight Christine Chambers and her daughters were in bed watching television.
"The defendant brought a double-barrelled shotgun and cartridges to the address, together with a bag containing an axe, a bottle with petrol in it and various other implements.
"Over a sustained period of time, something in the region of three hours, Mr Oakes subjected Christine Chambers to degrading assaults."
Mr Oakes met mother-of-four Miss Chambers in July 2005 and the pair had a "tempestuous relationship", the court heard.
The trial continues.