David Oakes 'tried to run over Christine Chambers'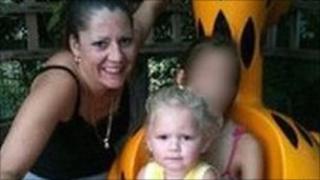 A man accused of murdering his former partner and two-year-old child in Essex had once tried to run the woman over in his car, a court has heard.
Christine Chambers, 38, and toddler Shania were shot dead in Braintree on 6 June 2011. David Oakes, 50, of Steeple, near Maldon, denies their murders.
Donna Garrod told Chelmsford Crown Court she had seen him chase Miss Chambers in his car.
She said he would get violent if her friend did anything wrong.
The jury has heard Mr Oakes, of Canney Road, was found semi-conscious after apparently shooting himself.
The prosecution has said he was fuelled by jealousy and he and Miss Chambers had been due to go to court in a custody battle over Shania hours later.
The trial continues.