David Oakes trial: Girl, 10, 'fled as mother killed'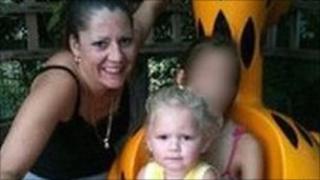 A 10-year-old girl fled after seeing a "horrible" man subject her "mummy" to a series of degrading assaults before shooting her dead, a court heard.
David Oakes, 50, of Steeple, Essex, is accused of murdering his ex-partner Christine Chambers, 38, and their two-year-old daughter Shania, in June 2011.
The witness, now 11, jumped from a window to flee after he threw a gun at her, Chelmsford Crown Court heard.
Mr Oakes denies two counts of murder at the house in Braintree, Essex.
The girl, who cannot be named for legal reasons, told the court Miss Chambers and Mr Oakes had broken up and were fighting over custody of Shania.
'Mummy was crying'
In a video interview, taken shortly after the attack and played to the court, she said: "He came in our house with lots of weapons.
"He came in when we were all about to go to sleep and mummy said, 'Get out of my house'."
The child described hearing somebody climbing the stairs at about 00:10 BST on 6 June.
"He turned the light on and said 'do you know why I'm here?'," she said.
"He kept saying he was going to burn our house down. He made mummy cut off her hair a bit as well."
In the video, the girl said she had pleaded with Mr Oakes not to hurt her, Miss Chambers or Shania, the jury heard.
Mr Oakes allegedly responded: "Yeah, yeah."
The girl continued: "Mummy was crying but he didn't shed a tear.
"He said 'I want you to come back to me' and made her say she loved him but he said he didn't believe her.
'So scary'
"I jumped out of the window and went to my daddy's. Before I went out of the window I ran down the stairs and he threw a gun at my back.
"He said to mummy: 'I want you to suffer as much as I have'."
The girl described Mr Oakes as "horrible" and said he had previously "hit and threatened" Miss Chambers.
"Mummy would call the police when he was scaring her," she said.
"The police came but she stuck up for him because he was so scary."
Mr Oakes, of Canney Road, was treated for a gunshot injury in what the prosecution described as a failed suicide attempt during the incident.
He was not in court to hear the girl's evidence.
The trial continues.