Southend house fire leaves family of five homeless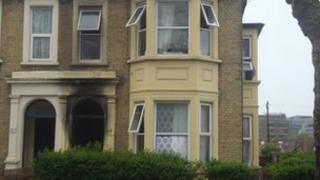 Eight people, including a family of five, have been made homeless following a house fire in Essex.
Firefighters were called to the blaze at the two-storey property, which is divided into flats, in Hastings Road, Southend, at 00:50 BST.
Essex Fire Service said three crews dealt with a "severe fire" on the ground floor of the building. One man was taken to hospital.
A joint police and fire investigation into the cause of the fire has begun.