Southend-on-Sea receives Purple Flag award for night life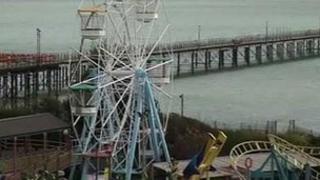 An Essex seaside resort has become the first in the county to receive a national award recognising the quality of its night life.
Southend is one of five new recipients of the Purple Flag, given by the Association of Town Centre Management.
The scheme, similar to the Blue Flag for beaches, praised the town's high street and seafront for being "welcoming, safe and clean".
The town joins 29 other locations in the UK to be given the award.
It was judged on five criteria, including crime, hygiene standards and the range of visitor attractions and was said to be "above standard" in two of them.
Southend council chief executive Rob Tinlin said: "The award is an endorsement our high street and sea front are vibrant, safe and clean places to live.
"The night-time economy is hugely important to Southend.
"What goes on in the town between the hours of 5pm and 6am is every bit as vital to the local economy as what occurs during daylight hours."
Lincoln, Ipswich, Sheffield and Aberystwyth were also announced as the latest recipients of the award.