Family killer Jeremy Bamber fails in appeal bid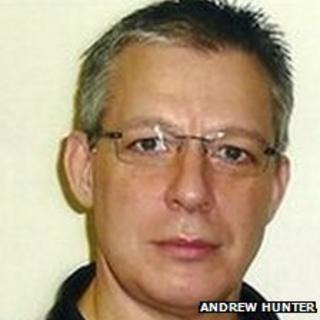 Jeremy Bamber, who was jailed for killing his family 26 years ago, has failed in his latest attempt to appeal against his conviction.
Bamber, now 51, has always denied shooting his adopted parents, sister and her six-year-old twin sons at the family's farmhouse in Essex in 1985.
He was given a whole life tariff for the killings.
A spokesman for the Criminal Cases Review Commission (CCRC) confirmed it was not referring the case for appeal.
In a statement issued through his supporters, Bamber said: "I shall continue to campaign to prove my innocence in every way I can.
"I am very shocked and extremely disappointed."
Bamber has always claimed that his sister, Sheila Caffell, murdered her wealthy parents, June and Neville, and six-year-old children, Daniel and Nicholas, before turning the gun on herself at the farmhouse in Tolleshunt D'Arcy.
'Very disappointed'
His latest request for an appeal was based on a fresh analysis of three burn marks found on his father and gunshot wounds on his sister which suggested they were not killed with a weapon fitted with a "moderator", which suppresses the sound of a gunshot.
His trial in 1986 was told he had shot his family with a weapon fitted with such a device which he had later removed.
In his statement, Bamber said: "It is illogical that the fresh evidence presented to them (CCRC) regarding the sound moderator has not persuaded the commissioners that this material 'may have' affected the jury's decision had they been presented with it at trial."
But the CCRC said there was no "real possibility" that the Court of Appeal would find the convictions to have been "unsafe".
The spokesman added: "This is a final decision and brings to a close the commission's current longest running case."
Bamber's solicitor Simon McKay said he was considering applying for a judicial review.
He claimed the CCRC had "improperly" dismissed "eminent scientific opinion" relating to the gunshot wounds found on the bodies of some of the victims.
He said: "In my view, the commission have not applied the proper test for determining whether a case should be referred back to the Court of Appeal."
An Essex Police spokesman said it had "co-operated fully" with the CCRC but would not comment further.
The CCRC's decision is the third time Bamber has failed to get his conviction overturned.
The Court of Appeal rejected a request for an appeal hearing in 1989.
He was granted an appeal in 2002, after the case was referred by the CCRC, but the appeal was later dismissed.