Red Arrows confirm return to Clacton Air Show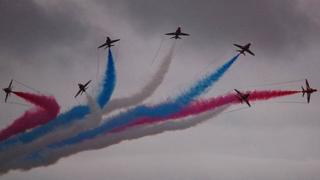 The Red Arrows will return to the Clacton Air Show this summer after missing last year's event, organisers have confirmed.
The aerobatics display team will appear on the second day of the Essex show on 24 August.
It was forced to pull out of the show in 2011 following the death of one of its pilots, Flt Lt Jon Egging, in a crash in Bournemouth.
The team will fly with seven aircraft this season rather than the usual nine.
A second pilot, Flt Lt Sean Cunningham, was also killed in November, when he was ejected from his plane while on the ground at RAF Scampton.
The team will begin their 2012 display programme at the Folkestone Jubilee Air Show on 2 June.
This year's Clacton Air Show will be the 21st time the event has taken place.
Conservative councillor Stephen Mayzes said the organisers were "absolutely delighted" with the return of the Red Arrows.
"The Red Arrows have been regular visitors to our event over the past 20 years and are, without doubt, the highlight of any air show," he said.