Maldon Mud Race to attract thousands to Promenade Park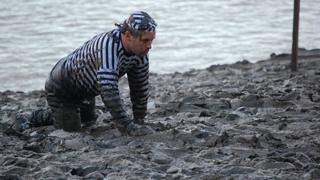 Runners from as far afield as Japan and Australia are set to take part in an annual charity mud race in Essex.
More than 280 people are expected to compete in the Mad Maldon Mud Race held along the bed of the River Blackwater in the town's Promenade Park on Sunday.
The 500-yard (457m) race, held at low tide, has traditionally taken place in the winter, but has made a permanent switch to spring for safety reasons.
Organisers said they were expecting about 10,000 spectators at the event.
The event's origins date back to a pub bet in the 1970s and it was revived in its current format in 2001.
'Strange British quirk'
Brian Farrington, vice-president of the race organising committee, said its profile and popularity had grown year on year.
"We're getting more and more interest and they're not just Essex people," he said.
"In fact we've got a Japanese person taking part for Japanese TV and someone running for Channel Nine in Australia."
Mr Farrington believed part of the success of the race was due to it being "one of those strange British quirks".
"People like to do something that's completely out of the ordinary. It's like cheese-rolling or black pudding throwing."
It is hoped the event will raise about £60,000 for charity.
Last year the race was held at Easter, after its original December date was postponed because of the extreme cold weather.