Essex County Council expenses system had 'major flaws'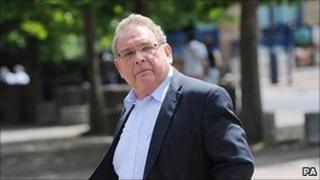 A report criticised the expenses system at Essex County Council when led by Lord Hanningfield, it has emerged.
An Audit Commission report, made public for the first time, expressed serious concerns about the system in 2009.
It said there was a lack of control over corporate credit cards, gifts, hospitality and chauffeur-driven cars.
Lord Hanningfield was jailed over his parliamentary expenses last year. New rules are in place and the auditor said the council had improved.
The Audit Commission, which inspected the council in 2009, said there was no system to properly scrutinise or question expenses claims and that it was not always possible to establish if money had been spent appropriately and on council business.
The Conservative-controlled council also failed to promptly publish details of claims at the end of the financial year, which is required by law, the Audit Commission found.
'Significant improvements'
The 2011 report, which has been published due to a review of its findings, said drivers were working excessive overtime and there was no clear policy on when the cars should be used and no detailed record of their use.
A register for the reporting of gifts and and hospitality was not used across the council.
In 2008 to 2009, the total expenses claimed by all members was almost £140,000. In the same year, the council said it needed to save £300m a year.
Peter Martin told the BBC the review indicated "significant improvements", particularly since he took over as council leader in February 2010.
He said the Audit Commission congratulated it for its "robust" system.
City of London police are still investigating Lord Hanningfield's council expenses.
The former Conservative peer, who resigned as council leader, was jailed for nine months in July for falsely claiming nearly £14,000 in parliamentary expenses.
He was released on licence in September, subsequently arrested over his council expenses and later released on police bail.