Police use 3D scanner to cut crash road closure times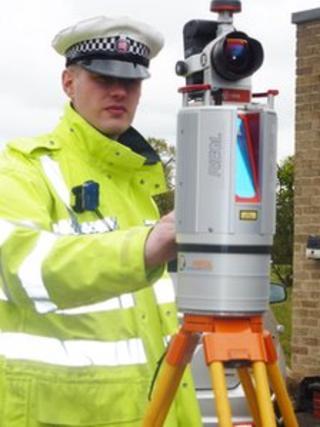 Police believe a new 3D laser scanner used to investigate road crashes could halve the time it takes to reopen roads in Essex following an accident.
Essex Police have taken delivery of the £108,000 equipment, which takes a virtual picture of the crash scene.
It can record up to 120,000 details per second, whilst rotating 360 degrees.
The county is the second of 27 forces to receive the technology, after the Metropolitan Police, as part of a £2.7m Department of Transport-backed scheme.
Essex Police said trials in London had shown the technology to have collected 30% more data compared to traditional manual methods, in half the amount of time.
PC Duncan Thurwell of the Forensic Collision Investigation Unit, said: "It also allows us to build a much more detailed picture of events from evidence at the scene and turn it into a virtual 3D world.
"This can be used as an investigative aid, to analyse the actions of a driver from their viewpoint or be called upon in court to test witness evidence."
PC Thurwell added it could also be used to collect evidence at murder or rape scenes.
The scanner has been jointly funded by the Department of Transport (DfT), National Policing Improvement Agency, Essex Police Authority and Essex County Council.
The DfT said there were more than 18,000 full or partial motorway closures lasting a total of more than 20,000 hours in 2010.