Labour take Harlow council from Conservatives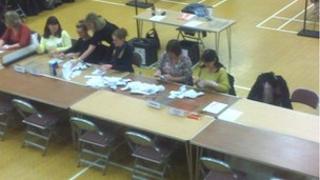 Labour have taken control of Harlow council in Essex from the Conservatives after winning five seats.
The new council will be made up of 20 Labour members (up from 15) and Conservatives have 13 (down from 17). There was one vacant seat.
Mark Wilkinson, Labour group leader on the council, said: "We've listened to people, we've responded and we've come back really strong."
The Tory leader Andrew Johnson blamed concern over national politics.
'National dissatisfaction'
"The voters were telling us on the doorstep that this was nothing to do with our local Conservative association, nothing to do with the council," he said.
"A number of our voters just weren't coming out because of dissatisfaction with the national party."
The Conservatives won control of the council in 2008 with a majority of one.
The Tories have lost overall control of Southend Borough Council with Labour winning two seats and one independent gain.
The Conservatives are still the largest party with 26 seats; the Liberal Democrats have 10, Labour have six and there are 10 independents.
Labour have also made three gains from the Conservatives at Basildon Council, but the Tories kept control with a majority of 10.
The Conservatives have held on to Castle Point and Rochford councils and, despite losing three seats, they have held on to Brentwood.
UKIP have taken a seat from the Conservatives in Thurrock - which was taken by Labour from no overall control.
Colchester remains with no party in overall control.
The Conservatives retained control of Epping Forest, where the BNP lost their one seat to the Loughton Residents Association.
· All the latest election results are available at bbc.co.uk/vote2012