David Oakes trial: Murder accused 'did not shoot daughter'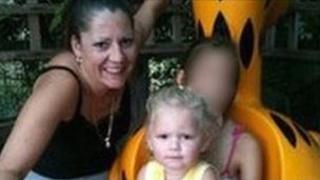 A man accused of a double murder in Essex has told a court it was his former partner who shot dead their two-year-old daughter.
Christine Chambers, 38, and toddler Shania were shot dead in Braintree on 6 June 2011. David Oakes, 50, of Steeple, near Maldon, denies their murders.
Mr Oakes told Chelmsford Crown Court he had shown Miss Chambers how to load the gun used, before going to the bathroom.
He then described there being "a flash and the baby was shot".
Mr Oakes denied having violence on his mind when he went to Miss Chambers' house to drop off DIY tools on the evening of 5 June 2011.
He said the couple had clashed throughout the night, but "had been getting on for about the last hour and a half".
"I would not kill my family, and I did not intend to either," he said, adding he had "absolutely never" considered harming Shania.
'Completely disorientated'
Mr Oakes explained Miss Chambers had asked him to get her the shotgun so she could sell it, which she kept in her bedroom.
"She asked me 'how do you load the gun again?' so I put one shell in to show her," he said.
"I went to the bathroom and there was Shania coming towards me.
"All of a sudden there was a flash and the baby was shot and she was laying down in the hallway. I thought the world had stopped."
He said he was not sure if Miss Chambers had shot Shania deliberately or accidentally.
"I grabbed the gun and I'm hitting her with the gun. I didn't care at that point. I'm not sure who was shot next. I was completely disorientated at that point," said Mr Oakes.
He said he had no recollection of what happened from that point on.
Mr Oakes was treated for a gunshot injury in what the prosecution described as a failed suicide attempt made during the incident, although he denies this was the case.
'Volatile' relationship
The court has previously heard the pair had a history of domestic violence and were involved in a custody dispute over Shania at the time.
Mr Oakes described his five-year relationship with Miss Chambers as "volatile".
"I struck her about five times but she also attacked me. She threw things at me and hit me," he said.
"When I first met her we had a great time, she was a lovely person to be around."
He added more recently Miss Chambers' drinking had "caused tensions" between them and she had sought a non-molestation order against him.
The trial continues.