Restoration of Paycocke's in Coggeshall complete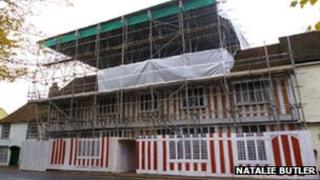 A £187,000 restoration of a 500-year-old Grade I listed merchant's house in Essex has been completed.
Work on the roof at Paycocke's in Coggeshall saw about 28,440 clay tiles replaced or repaired and 2,000 metres (6,561 ft) of rotten timber replaced.
As well as water damage from rain seeping through gaps in the roof, tiles had begun to fall on to the pavement.
The National Trust, which owns the building, said the work had been required for more than 30 years.
Natalie Butler, custodian of the house, said: "We were able to reuse a lot of the tiles that had come off, so it looks very much like it did. It's just watertight now.
Signatures found
"Once the water gets into a building it just rots so quickly, which was demonstrated in some of the areas when we took the roof off."
The house, which was built in 1509 for a wool merchant, has been owned by the National Trust since 1924.
Mrs Butler said the work also allowed them to discover more about the history of the building.
"We found the signatures of the men who last did work on the roof and the date, which was 1906," she said.
"So we now know when the work was last done, which is brilliant."