Staffordshire bull terrier image tackled by Essex charity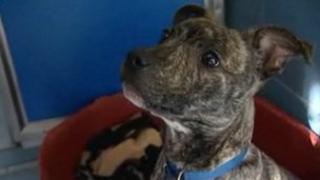 An Essex animal charity is making a film to try to improve the image of the Staffordshire bull terrier dog.
The RSPCA Danaher Animal Home in Wethersfield said two thirds of the dogs at its kennels were that breed and it struggled to rehome them.
Manager John Kirkman hoped the video would "educate" people about the true nature of the breed.
"We want to try to explain the dog is anything but aggressive, unless it's been trained to do otherwise," he said.
"There are a great number of people who consider them as dangerous but they're an affectionate dog that will give you years of faith and loyalty."
The film will involve people who have adopted dogs from the centre, staff, and dogs from the kennels.
Mr Kirkman said of the 70 kennels it had, about 65% were taken up by Staffordshire bull terrier or crosses and the number being abandoned was on the rise.
He added the number of animals coming to the centre was putting increased pressure on its resources, with it requiring about £1,250 each day to operate.
"A lot of those dogs after they've exceeded the age of three or four are no longer 'fashion accessories', which is why they've been abandoned," he said.
"If we can get people to believe the 'Staffie' is much like any other loveable dog, such as the labrador, then we'll have achieved our objectives."