'Unacceptably long' queues at Stansted Airport in Essex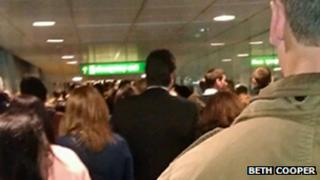 Passengers were caught up in "unacceptably long" queues at passport control on the eve of the Bank Holiday weekend, airport bosses said.
Hundreds of people were delayed at Stansted Airport, in Essex, as they returned to the UK on Friday.
A Stansted Airport spokesman said it would be asking the UK Border Force for answers about what caused the hold up.
He said queues developed at about 16:30 BST but had cleared by 20:00 BST. The UK Border Force has yet to comment.
Beth Cooper, from Ightham, near Sevenoaks, Kent, was delayed by around 45 minutes as she returned to the UK from a trip to Cork, in Ireland.
She said: "It really wasn't pleasant. It was very uncomfortable.
"It just felt really chaotic and badly organised. There were a lot of unhappy people there."
Border force talks
Ms Cooper said hundreds of passengers were told to wait in a corridor until they were taken through passport control in "batches".
She said: "There was no explanation as to why we were being held there."
A spokesman for the airport, owned by BAA, said: "At peak times queues can be unacceptably long and that was the case earlier.
"We recognise there needs to be a strong border but we also want to make sure that border staff have the right resources to meet passenger demand.
"We will be talking to the UK Border Force about the queues and the reasons behind it."
He said extra staff were drafted in to help people stuck in the queues and inform them of the latest situation.
Earlier this week, Prime Minister David Cameron told ministers to admit there was a problem with long immigration queues at Heathrow Airport.
The Border Force aims to process most passengers from within the European Economic Area and Switzerland within 25 minutes.