Colchester recovery centre for injured soldiers opened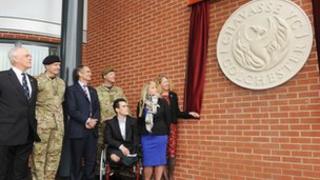 A £6m recovery centre for injured service personnel has been officially opened in Essex.
Chavasse VC House Personnel Recovery Centre at Merville Barracks in Colchester can accommodate 27 people, two families and 30 day visitors.
The centre will provide physical and welfare support to help them to readjust to civilian life after injury.
It will be run by the charity Help for Heroes in partnership with the Ministry of Defence and Royal British Legion.
The Colchester centre is the fourth of its kind to be built in the UK, with similar units in Catterick, Edinburgh and Tidworth.
As well as receiving retraining and education, wounded personnel will also have access to psychological, financial and prosthetic support.
'Next phase of life'
The building of the centre was funded by the Help for Heroes charity, which will also run it with support from the Royal British Legion.
It is expected to cost about £1m a year to operate.
Bryn Parry, who founded the charity, hoped the centre would play an important role in preparing wounded service personnel for their new lives.
"It's where you come when you know your life has changed, whether by battle or training injury, and you know you're not going to have the same life that you set out to," he said.
"You've then got to have time to think about what you want to do.
"You retrain, and when you're ready and you've got the right job and the right future you can relaunch into the next phase of your life."