David Oakes murders: Police and social services probes under way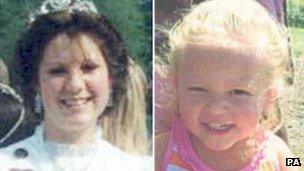 Two investigations are under way into contact social workers and police had with a mother and two-year-old girl murdered at their home in Essex.
David Oakes, 50, who lived on the Steeple Bay Caravan Park, near Maldon, Essex, shot dead his 38-year-old ex-partner Christine Chambers and their daughter Shania.
It emerged during Oakes' trial at Chelmsford Crown Court that the police had attended either his or Miss Chambers' address at least six times in the two years leading up to the murders.
Now Essex County Council's social services department has revealed the last contact social workers had with the family was in 2011, weeks before the double murder on 6 June.
"Essex social care had intermittent, low-level involvement with the family before 2009," a council spokeswoman said.
"In 2009, a completed assessment showed no reported concerns from other agencies and social services were satisfied the children were well cared for and safe.
"In 2011 social care investigated a separate allegation but after carrying out further inquires decided no further action was needed."
The council said the Essex Safeguarding Children Board was undertaking a Serious Case Review in relation to the death of Shania.
"This will focus on agencies' involvement with the family, whether the actions taken and interventions were appropriate and what lessons can be learned in relation to multi-agency safeguarding and child protection practice across Essex," the spokeswoman said.
Essex County Council's care of vulnerable children was upgraded to "adequate" by the watchdog Ofsted last year.
The authority's Children's Services had been rated as "inadequate" since 2008.
The police watchdog, the Independent Police Complaints Commission, is conducting a separate investigation into Essex Police's role.
Ian Flitt, 51, whose 10-year-old daughter escaped from the house before Oakes carried out the killings, claimed police should have acted sooner.
"They knew damn well what was going on there, there's no way they didn't," he said.
Essex Police said it could not comment on the claims until after the IPCC investigation was complete.
But the force said it had improved its response to domestic violence by increasing investment in its public protection team.
Det Ch Insp Denise Morrissey, head of the Domestic Abuse Safeguarding and Vulnerable Adults Team, said: "We've had an increase in resources within the public protection area, the only increase in resources within Essex Police as a result of our reform programme.
"If we can save one victim, it's well worth doing."
Just before midnight on June 5 2011, Oakes went round to his ex-partner's house in Bartram Avenue, Braintree.
He subjected Miss Chambers to what was described at Chelmsford Crown Court as a "degrading, violent assault".
He shot his daughter at point blank range and shot Miss Chambers three times, before turning the gun on himself in a failed suicide attempt.
The alarm was raised by the 10-year-old girl, who cannot be named for legal reasons, when she ran to Mr Flitt's home nearby.
Mr Flitt said his daughter had been "very matter of fact" since the tragedy and would receive counselling.
"I am going to do all I can to help," he said. "We'll have to keep a close eye on her.
"She is going to have therapy. She won't think back."
Chelmsford Crown Court was told about a series of incidents of violence Oakes inflicted on his then partner over several years.
In one case, Miss Chambers was dragged from a neighbour's house by her hair, which was so badly damaged that she had to have it cut short.
Related Internet Links
The BBC is not responsible for the content of external sites.