Colchester Roman circus visitor centre a step closer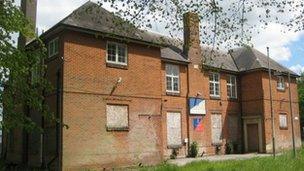 Plans for a visitor centre at the site of a former Roman chariot track in Essex have moved a step closer.
The Colchester Archaeological Trust (CAT) has completed the purchase of an old army education building on the site of the town's former garrison.
The building is close to the remains of a quarter-mile (400 metre) chariot circus that was discovered in 2004.
The trust hopes the centre, which could open in two years, will explain the importance of the circus to the town.
Philip Crummy, director of CAT, said the purchase was a "crucial" step in its plans, following a long fundraising campaign.
"Now we own an actual building on the site which we can use, which is brilliant," he said.
"It will give the visitor an idea of how rare it was, how special it was and how circuses were associated with major towns in the empire."
Along with the 75-year-old building, the trust has secured the lease to manage the actual site of the remains of the circus.
It is also bidding for a £1million grant from the Heritage Lottery Fund towards the creation of the interpretation centre.
"People will be able to see part of the circus itself, though not very much because we can't expose much of it to the elements," Mr Crummy said.
"They'll also be able to walk around the footprint of the circus, which was about a quarter of a mile long, to get an idea of the scale of it."
Mr Crummy added that there were plans to reconstruct some of the items that would have been used, such as lap counters.
The centre would also tell the story of the discovery of the Colchester circus, which is thought to have been able to hold 15,000 spectators.
Related Internet Links
The BBC is not responsible for the content of external sites.