Suspected arson: Chris Lang exhibition in Essex hit by fire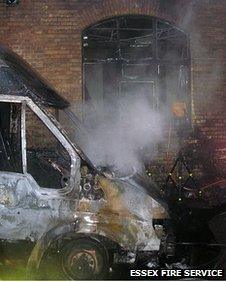 An exhibition in tribute to an Essex artist who died recently has been severely damaged following a suspected arson attack on Sunday.
Several pieces of Chris Lang's artwork were destroyed by flames that spread from a van parked outside the CoExist Gallery in North Road, Southend-on-Sea.
The blaze started at about 04:00 BST in a large van before flames spread to the building and the exhibition gallery.
Police and emergency services are treating the fire as suspicious.
Martyn Hodder, Southend Station commander, said crews were called to the old Essex and Suffolk Water Company site, currently occupied by an arts group.
"Crews discovered a large contractors works van well alight together with a quantity of rubber blocks next to the van," he said.
Amy McKenny, co-founder and director of CoExist Gallery, said: "Somebody heard an explosion and saw flames shooting into the air, I can only think it must have been the van.
"When it exploded it took the windows out, all black and charred and it was these flames that took hold of the artwork."
Chris Lang died in September 2011, aged 65. He worked as an artist for more than 40 years, specialising in painting and sculpture.
Ms McKenny said: "It was horrible, I felt numb. Chris was a prolific painter, I can't even begin to tell you a value on the work, there was 15 years of work there.
"All of it is smoke damaged so we need to find a way to get that restored. We were all in so much shock yesterday we just moved the work into a different room.
"The last drawing he did before he died is on one wall which survived. We've pulled out much of the fire damaged work and I think it's important people still see it. I'm not going to let an act of vandalism ruin that."
Joe Lang, 25, the artist's son and freelance photographer, said: "It's unbelievably sad to have lost those paintings, but at the same time we had the private view on the Saturday night and everybody was there."
A spokesperson for Essex Police confirmed the fire had been started deliberately and was now the subject of a joint police and fire service investigation.
Related Internet Links
The BBC is not responsible for the content of external sites.