Court ruling against Gove welcomed by Essex council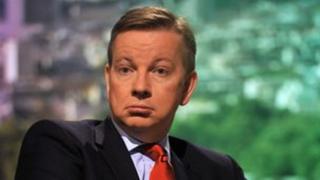 A council's victory in a High Court action against Education Secretary Michael Gove over cuts, has been welcomed by the authority's leader.
Essex County Council claimed Mr Gove breached equality laws when he slashed part of its budget by £10m in 2010 - hitting the county's disabled children.
The High Court ruled Mr Gove's decision was unlawful and must be reviewed.
Council leader Peter Martin said he hoped the ruling would help nursery provision in the county.
But the Department for Education said parts of the judgement supported the government such as the dismissal of the challenge that the department should have consulted Essex County Council.
"We are considering the implications of the judgment," a spokeswoman added.
'Vulnerable in society'
Mr Martin said it took the case to court because the council felt "strongly that the rights of the county's children to have access to these facilities is worth campaigning for".
He added: "Whilst we realise that this is a time of austerity and budgets are tight, we believe it is important to protect those most vulnerable in society and ensure they are given the resources and support they need.
"We hope the Department of Education listens to this ruling and makes the necessary adjustments to our funding to ensure Essex parents and children receive the best possible early year's provision."
At the High Court hearing on Thursday, Andrew Sharland, for Essex County Council, told the court the council was told its budget for nursery and primary school building projects would be about £27m for 2008 to 2011.
It said it had allocated more than £26m of that money, by June 2010, to building projects aimed at improving pre-school education, particularly for the disabled.
But when Mr Gove announced his cuts in July that year, the council was told to review its spending and identify any "uncommitted" funds, the court heard.
A dispute then arose over how the money was allocated.
Essex County Council argued that by not consulting it before cutting funding by £10.7m, Mr Gove breached his "equality duties".
Government lawyers insisted the decision making process was correctly handled.
Mr Justice Mitting ruled: "I do not accept that the Secretary of State, either personally or through his officials, fully discharged the duty upon them."