Kitten found in car engine by airport staff after 25-mile trip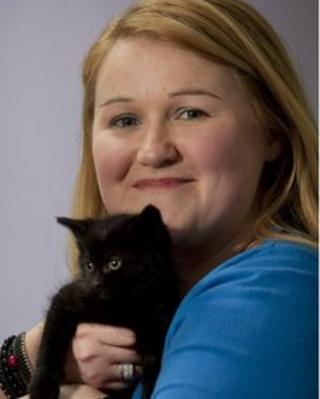 A stray kitten has survived a 25-mile journey to Stansted Airport under the bonnet of a car.
The five-week-old was coaxed out of her hiding place after staff heard odd noises coming from a "purring" engine in the staff car park on Friday.
The RSPCA was alerted and gave a clean bill of health to the uninjured black kitten, which did not have a microchip.
Her survival and her starting point in Tiptree, known for its preserves, have lent her the name Jammy.
Security adviser Becky Corris cared for her at the office on Friday and later at home and said she would love to take her on as a pet.
It is thought the kitten had hidden in the engine in Tiptree and took a dangerous adventure when the car owner drove to work at the airport.
'Absolutely adorable'
Ms Corris said she and a team of two security officers and four police officers had spent half an hour trying to free Jammy.
"She was right underneath the main part of the engine, so she had wrapped herself in there quite tightly," said Ms Corris.
"She looked absolutely terrified and was crying constantly so we were all quite concerned for her and weren't sure if she was injured."
Jammy eventually jumped out and ran around the car park before being caught and cared for by staff.
Ms Corris said the RSPCA was confident Jammy was unwanted as she was "too young to be outdoors", and was happy for her to be adopted as it was inundated with kittens.
"She's absolutely adorable and didn't want to leave my side, so I think we've grown attached.
"We had people coming by the office all day with various excuses, just so they could come and see her."