Tilbury dock workers begin 48-hour strike over contracts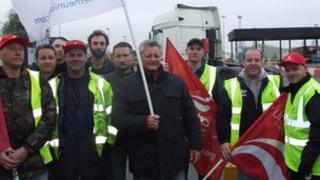 A 48-hour strike by a number of workers at an Essex dock is under way.
Forty-five employees at the Port of Tilbury's Enterprise Distribution Centre (EDC) began action at 06:00 BST.
It is the second strike in a month by members of the Unite union, who are in dispute with the port's management over new contracts.
A Port of Tilbury spokesman said 70% of EDC staff attended work on Monday and claimed it would have "no impact" on other operations at the port.
EDC deals with the unloading and distribution of paper reels.
Union members held a 24-hour strike over the same issue earlier this month, claiming new contracts could lose workers about £2,500 each year.
The Port of Tilbury said it was "disappointed" with the action, despite its "continued best efforts to achieve an agreed way forward".
It added the strike would be confined to the EDC, and access to the port's gates would be unaffected.