Braintree neighbour deaths: Rolex watch appeal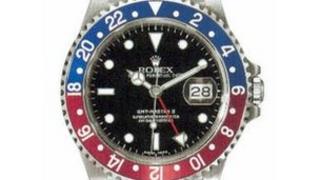 Police investigating the deaths of two Essex neighbours, one of whom died from stab wounds, have appealed for help to find a missing Rolex watch.
Richard Wight, 55, and Alan Taylor, 59, were discovered in homes next to each other in Eagle Lane, Braintree, in January 2012.
Mr Wight died from stab wounds and Mr Taylor from natural causes.
Mr Wight's watch, bought in 1973, was last seen in November and his family members are keen to trace it.
Det Ch Insp Mark Hall said: "I believe it is possible the watch may have been taken for repair, or it may have been pawned or otherwise deposited with a local shop or jeweller prior to Mr Wight's death."
Ian Wight, brother of Richard, said: "Richard regularly wore his Rolex - it was his pride and joy."
The watch is a gentleman's Rolex GMT Master with a "Pepsi" bezel (red and blue), model 1015636, serial number 1832259, and was purchased in 1973.