Cannabis found at Wickford house after tip-off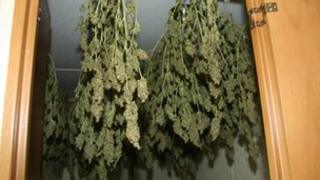 Two people have been arrested after a police raid in Essex uncovered 400 cannabis plants.
Police went to a house in Arterial Road, Wickford, on Tuesday after a call from a member of the public that cannabis may be growing there.
An outbuilding equipped with fans and hydroponics contained about 300 plants while another had more plants. A third building contained a drying room.
A woman aged 51 and a man aged 56 were arrested.
The woman is being questioned on suspicion of production of cannabis and abstraction of electricity.
The man was arrested on suspicion of cultivation of cannabis with intent to supply and was released on police bail until 8 August.
A firearm was also found and seized along with the drugs.