Stansted baggage handlers' Jubilee strike confirmed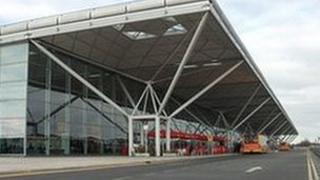 Baggage handlers at Stansted Airport in Essex are set to go on strike over the Jubilee weekend after talks to avert the action broke down.
The Swissport workers plan to walk out between 05:30 BST on Saturday and 05:29 BST on Wednesday in a dispute over working patterns.
The GMB union said the introduction of new rosters would lead to a reduction in incomes.
A Swissport spokesman said its "third, enhanced offer" had been rejected.
He added: "The proposed industrial action is therefore expected to go ahead."
Richard Prince, General Manager of Swissport Stansted, said passengers should not be disrupted.
"Anyone planning to fly through Stansted this weekend can do so with confidence," he said.
'Contingency plans'
"Our check-in staff will be waiting to welcome them on this special weekend."
Swissport, which handles flights for Ryanair, Thomas Cook, Thomson, Atlasjet and BelleAir, said "contingency plans" had been made, including bringing in staff from its other bases.
Workers also staged walk-outs in the dispute last month.
Gary Pearce, of the GMB union, said about 200 workers were set to walk out.
Swissport rejected that figure, saying the strike included "around 100" employees.
Mr Pearce said: "This dispute won't end - it will keep going right up until the Olympics."
He dismissed Swissport's suggestion that the latest offer was "enhanced".