Stansted Airport flight delay after plane damaged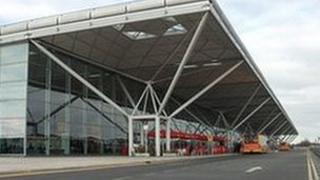 An airport worker crashed a set of steps into a plane at Stansted Airport, leading to a flight being delayed by 90 minutes for inspection.
The Ryanair service to Ibiza was taken out of service as a precaution after a wing was examined, a spokesman said.
Baggage handlers and ground staff members of the GMB and Unite unions employed by Swissport were on strike over the Queen's Jubilee weekend.
Swissport said the incident did not involve anyone brought in to cover.
A spokesman said a "local worker" was involved and not a member of the additional workforce drafted in to cover for the strike action.
The union members have said new rosters threaten pay cuts and mean working extra days for free.
The company has said the industrial action has failed to have any impact on passengers.
The strike started at 05:30 BST on Saturday and ended at the same time on Wednesday.