Drugs found at Tibury port hidden in food from Jamaica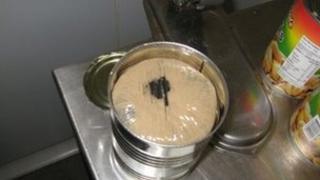 A bid to import 2.5 tonnes of cannabis with a street value of up to £7m has been foiled at an Essex container port.
The drugs found at Tilbury were in a container from Jamaica full of tins of the island's traditional fruit dish, ackee, and the leaf vegetable callaloo.
It took days to examine the cargo which was seized on 30 May.
Drugs were found in 40% of the tins - but smugglers had made sure each of the containers weighed precisely 500g to avoid arousing suspicion.
Dean Milton, from Border Force, said: "This was an elaborate and labour intensive attempt to breach our border controls.
"The smugglers had been careful to ensure that each of the tins weighed precisely 500g and had been hermetically sealed.
"To the naked eye there was nothing to differentiate between a tin that contained an innocent foodstuff and one that was hiding illegal drugs."
All of the tins had to be examined by hand by Border Force officers.
The shipment, which was heading for London, has been destroyed but no arrests have been made.