Queen's Birthday Honours: Essex volunteer teacher appointed OBE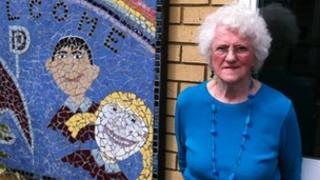 An 81-year-old woman from Essex who has taught for free at a primary school for 20 years has been recognised in the Queen's Birthday Honours.
Joyce Trickner, who teaches crafts part-time at Danbury Park School near Chelmsford, receives a British Empire Medal for services to education.
She said: "It's a bit of a shock but I absolutely love the work and I'll hate it when I've got to give it up."
Three Essex people have been appointed OBEs.
They are Michael Adams, the chief executive of the Essex Coalition of Disabled People, for services to disabled people; Aidan Jones, former chief executive of WorldSkills London 2011, for services to skills and Gary Sullivan, for services to the regeneration of the Thames Gateway South Essex.