Coryton Oil Refinery: Workers demonstrate at minister meeting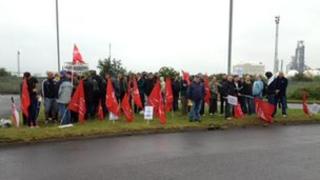 Oil refinery workers from Essex facing redundancy have demonstrated at a meeting at the Department of Energy and Climate Change.
Union officials and local politicians met energy minister Charles Hendry on Tuesday to discuss Coryton Refinery.
The Unite union has attacked moves to start laying off 180 workers.
The union said a buyer could be found for the site which went into administration when the owner, Swiss-based Petroplus, collapsed in January.
Unite national officer Linda McCulloch said: "The workers at Coryton feel as though they have been led down the garden path by the administrators and let down by the government who continue to sit on their hands and refuse to offer state aid.
"These are skilled workers who have worked tirelessly to keep the refinery going and make it one of the most efficient in Europe.
'Declining demand'
"The closure of the plant would be a disaster for the workforce and the surrounding local economy."
About 180 jobs will be cut next week at the refinery, its administrator PwC has announced.
The administrator has confirmed that while it continues to work with various parties which have expressed an interest in acquiring the Coryton site, it was highly unlikely that it would be sold as a refinery.
Last week the government ruled out state aid for the plant, saying that "overcapacity in the refining industry and declining demand for petrol mean that it would not be sustainable for government to provide assistance".
Speaking after the meeting, Mr Hendry said: "From the outset of this process, we have worked tirelessly with the administrator to find a way to secure a successful outcome for Coryton and to safeguard local jobs.
"It is extremely disappointing that the administrators have not found a buyer for the refinery, despite their strong efforts."