Essex ex-Royal Engineer Mark Colman in underwater record bid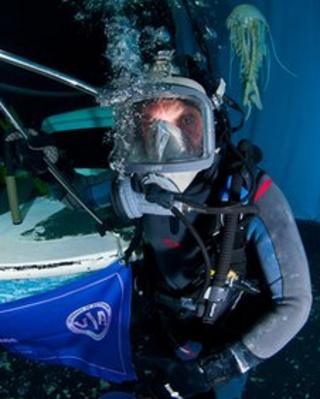 A former soldier from Essex aims to break a world record by staying underwater for five days.
Ex-Royal Engineer Mark Colman, of Corringham, hopes to stay submerged in a water tank in Basildon for 120 hours.
He wants to raise £500,000 for Veterans in Action (VIA), a charity which he said changed his life.
It is the first time the 44-year-old has dived in more than a decade after losing a friend in a diving accident and developing post-traumatic stress.
Mr Colman left the Army in 1994, after serving in the first Gulf War, and became ill after the accident and the added loss of his sister.
He turned to VIA and their support for former members of the armed forces who find civilian life difficult to adjust to.
'Positive about future'
"This is a huge personal challenge for me," he said.
"Thanks to VIA I am more positive about the future and am turning my life around.
"The charity has been amazing for me and my health and more so my sanity.
"I have learnt not to suffer in silence."
He began the challenge at the Underwater Studios in Basildon on Monday and aims to stay in the 20ft deep tank until Friday.
The rules allow Mr Colman to come out of the water every four hours for 20-minute breaks for food and water.
Otherwise he must remain submerged to break the current world record for the longest dive in a controlled environment, which stands at 100 hours.
To keep him occupied, music is being pumped into the tank around-the-clock and he will take part in games and activities.
On Tuesday, a blog about his challenge said Mark had had "a really difficult night" and water saturation and lack of circulation had given him sore hands.
"His spirits are still high despite the pain he is going through," it added.