Harlow murder case victim was pregnant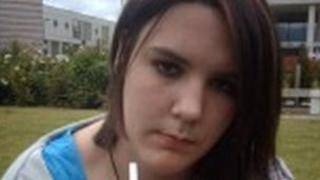 A woman found fatally injured in an Essex street was days away from giving birth, police have said.
Eystna Blunnie, 20, died in hospital from multiple head and facial injuries after being discovered in Howard Way, Harlow, at 03:00 BST on Wednesday.
A 23-year-old Harlow man is being questioned on suspicion of her murder and the death of the unborn girl.
A police spokesman said: "Eystna was due to give birth to a baby girl in the next few days."
He added: "As a result, the man is also being questioned in relation to the death of Estyna's unborn daughter."
Miss Blunnie, from Halling Hill, Harlow, died shortly after arriving in hospital.
In a statement, her parents Kevin and Susan Blunnie said: "We can't begin to explain how we feel.
"Eystna was a wonderful and loving daughter who was looking forward to the birth of her first child.
"Sadly this will no longer be. We hope that everyone will understand the sadness in our hearts and let us mourn our sadness of the passing of our loved ones.
"We would also like to thank everyone for their support to our family at this very sad time."
Dozens of floral tributes have been left on the side of the road near the spot where Miss Blunnie was found.