Eystna Blunnie murder case: Police question suspect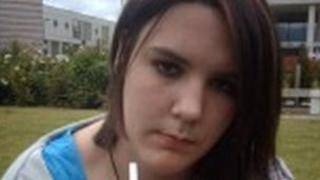 Police are continuing to question a man arrested on suspicion of murder after a pregnant woman was found with fatal injuries in Essex.
Eystna Blunnie, 20, died of multiple head and facial injuries after being discovered in Howard Way, Harlow, at 03:00 BST on Wednesday.
She was due to give birth to a baby girl within days.
Police have until Friday evening to question the 23-year-old Harlow man, who was arrested on Wednesday.
He is being questioned over her death and that of her unborn child.
A police spokesman said: "Eystna was due to give birth to a baby girl in the next few days.
"As a result, the man is also being questioned in relation to the death of Estyna's unborn daughter."
Miss Blunnie, from Halling Hill, Harlow, died shortly after arriving in hospital.