John Massey prison escape baffles family of murder victim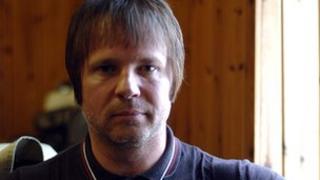 More than three decades have passed since Charlton Higgins learned his father had been shot dead.
But when he heard his father's killer - John Massey - had escaped last week from Pentonville prison, the wounds of his childhood were reopened.
Massey was given a life sentence for the murder of doorman Charlie Higgins outside a pub in Clapton, east London, in 1975.
He was on the run for 48 hours before he was arrested in Kent.
Charlton Higgins, of Braintree, said he was "baffled" by the escape and told how the murder still haunted him.
Mr Higgins, who runs The Independent pub in Braintree, was just nine years old when his father was shot.
Now 46, Mr Higgins said: "It upset everyone within the family, and over a period of time after my father had gone, the family sort of broke down.
"It was like he was the backbone of the family," said Mr Higgins. "My dad was absolutely everything to me, he was great."
He described how the media coverage at the time led him to have problems in school from other children.
Life sentence
The situation became so difficult for his family that they moved.
As the years went by, however, Mr Higgins and his family managed to put the murder to the back of their minds, he said.
But Massey's escape - the third since he was given a life sentence for the murder of Mr Higgins - has brought the emotions back for Charlton Higgins and the family.
Massey, one of the country's longest serving prisoners, is thought to have hidden in the prison gym and went on to the roof before scaling the wall using netting.
It is understood Massey had previously escaped from Coldingley prison in Surrey in April 1994, and was subsequently reported to be living in Spain before being returned to prison.
The 64-year-old prisoner was released on parole in June 2007 - after spending the previous 18 months in an open prison in Derbyshire - and ordered to live in a bail hostel in Streatham, south London.
But he broke his curfew after a few months to go and live with his dying father and, after a number of days, was recalled to prison.
After two-and-half years, he was sent to Ford open prison, in West Sussex, from where he absconded.
He was arrested 10 months later and taken to Pentonville before last Wednesday's escape.
"Every now and then it all comes back home again," said Mr Higgins, who has an older brother, Kevin. "I've never understood how he can get out.
'No remorse'
"Obviously his last escape absolutely baffles me - that someone of his age can get over a wall. I'm a very fit person and I would struggle," he said, questioning whether Massey had escaped through some other means.
Mr Higgins said he would not object to Massey's release if there had ever been any indication or expression of remorse.
But the Higgins family, he said, have heard nothing from him.
"I am still trying to understand the reasons why, in that he has shown no remorse over all these years.
"He just clearly hasn't been bothered in any shape or form.
"I would just like to receive something from him with his regrets and sorries - I think the family would have loved that as well," said Mr Higgins.
"The authorities see fit not to let him out and that's because there is no emotion, no regrets.
"He didn't regret his actions when he went to court and got sentenced and he doesn't now which amazes me really because in the cold light of day after something like this you would say 'oh my god, what have I done?'.
"I still don't think he should be released without remorse for what he has done.
"I don't think he should be in prison, I think he should be in a mental institution - there's something wrong with him."
A spokeswoman for the Ministry of Justice said it was unable to comment on Massey's escape as an investigation into the incident is ongoing.