Little Bentley motorcyclist tells of air pellet shooting ordeal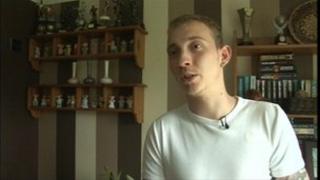 A teenager from Essex is facing tests for nerve damage after being shot in the back while riding a motorcycle.
Kurtis Pearce was riding along Harwich Road in Little Bentley, near Clacton, when he felt a sharp pain in his lower back near his spine.
The 18-year-old, from Elmstead Market, later went to Colchester Hospital where surgeons removed an air pellet.
A police spokesman said the shooting, at 23:30 BST on 19 June, was "totally reckless" if deliberate.
Mr Pearce said: "It was a few inches away from my spine. If it had hit my spine who knows what could have happened?"
Nerve damage
He said he spotted two people in a field next to the road as he went by shining a light at him.
Next week Mr Pearce, who has been struggling to walk since suffering the injury, will have an MRI scan to check for nerve damage.
Investigating officer PC Dan Macey said: "We are trying to find out how this injury happened and want to hear from anyone who might have any information about people shooting in fields in the area on the night in question.
"If the motorcyclist was shot deliberately we need to find the person responsible because such totally reckless behaviour could have resulted in the rider falling from his machine at speed and being seriously injured."