Private New Hall School to 'sponsor' struggling primary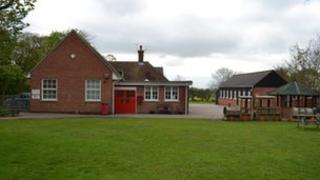 A struggling primary school placed in special measures is to be taken under the wing of a private boarding school.
The pupil roll at Messing-cum-Inworth Primary School, near Colchester, had dropped from 54 to 40 since it was put in special measures last year.
Independent boarding school New Hall in Chelmsford has said it will share its resources with the primary.
Essex NUT said it was concerned the move could set a precedent for struggling schools.
The arrangement will see the Catholic New Hall School - rated "excellent" by the Independent School Inspectorate - share facilities and expertise with the primary, which has three teaching staff.
Ofsted inspectors said Messing urgently needed to improve academic progress, teaching methods, management and leadership.
Pioneering move
New Hall principal Katherine Jeffrey will act as executive head at the primary school.
She said: "We were keen to respond to the invitation to take a pioneering move to sponsor a state primary school in our local area."
New Hall said it would benefit from the arrangement, which is non-financial, by enhancing the experience of its own teaching staff.
Bob Wiggins, chairman of governors at Messing, said: "This is a unique opportunity to share expertise between the independent and state sector and for Messing-cum-Inworth Primary School to benefit from a school with a proven track record of excellence."
Jerry Glazier, general secretary of Essex NUT, said: "We believe schools should be accountable to the communities they serve.
"Schools in challenging circumstances need to be actively supported and what this Government has done has fundamentally undermined the local authority's ability to deliver such support by reducing significantly the resources available."
But the Schools Minister Lord Hill said independent schools could play "an important part in helping under-performing state schools to improve".