Peter Reeve sought after PC Ian Dibell shot dead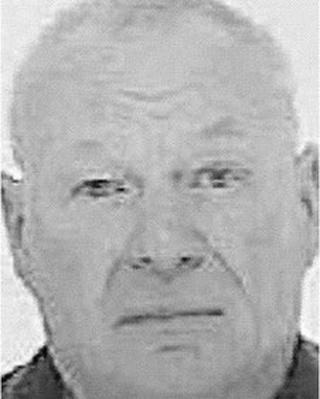 An off-duty police officer has been shot dead and another man injured in an Essex seaside town.
Police were called at about 15:30 BST on Monday after gunfire was heard near Redbridge Road in Clacton-on-Sea.
Essex Police Chief Constable Jim Barker-McCardle said PC Ian Dibell, 41, was killed after he "deliberately intervened" in a "deadly situation".
Officers are hunting Peter Reeve, 64, over the shooting. They said he was dangerous and should not be approached.
Paul McKeever, chairman of the Police Federation of England and Wales, said PC Dibell had "demonstrated remarkable courage and bravery".
He said: "Our thoughts are with the family and friends of our colleague who has been killed in Essex. It's a very sad day indeed."
Mr Barker-McCardle said PC Dibell was "an experienced and professional neighbourhood police officer" who "deliberately intervened in what he knew was an extremely deadly situation".
'Ultimate sacrifice'
The chief constable said: "Policing is a family and we are all hurting.
"This dreadful event reminds us all that policing is a mission that ultimately some die for.
"We will not rest until his killer is found."
Mr Reeve, who is believed to be armed, is described as white, about 5ft 10ins tall with short, greyish hair, wearing jeans and possibly glasses. He comes from the Clacton area.
Armed officers are searching the town and residents have been advised to remain indoors.
Mark Smith, chairman of the Essex Police Federation, said PC Dibell was a "dedicated professional officer who, even though off duty, has paid the ultimate sacrifice for his bravery and selfless actions in trying to protect his local community".
A white tent has been erected in front of a house at the scene and more than 13 police vehicles are parked nearby, including a van full of armed officers.
A group of 20 neighbours was led away from nearby houses by forensic officers and gave their details before leaving the scene.
A police spokesman said they were confident of catching the gunman after receiving many calls from the public.
He described how when police arrived they found one man dead and another man with serious leg injuries lying in the street.
A BBC Essex reporter said it was a quiet residential area in a "well-to-do" part of Clacton.
'Woman screaming'
A 45-year-old woman, who lives yards from the scene, said: "I heard a lot of commotion at about 3.40 near to flats at the end of the street.
"I didn't know what was going on. There's still a lot of commotion in the street. I saw a man running up the road.
"I don't know anyone involved in what's happened. The whole road has been cordoned off. My husband isn't being allowed back to our house."
Patrick Mooney, 83, returned from a shopping trip at about 16:00 to find police in his street.
"I was escorted back to my house by police and told 'stay inside'," he said.
"I didn't ask what was going on and they didn't tell me."
Hazel Field, 75, who lives in Redbridge Road, said she heard a number of gunshots.
"I was in the garden at the time and heard a gunshot, followed by a woman's scream," she said.
"Then I heard another gunshot, followed by about five more."
Another woman added: "We were standing outside and heard what we thought was a dog howling and then we realised it was a woman screaming.
"We heard a man shouting and then there was another series of gunshots before it went quiet.
"It must have been about 10 to 15 minutes later that we heard police sirens."
Shadow Home Secretary Yvette Cooper said she was "shocked and appalled" by the shooting.
She added: "We are all reminded that police officers on or off duty put themselves in harm's way to protect the public and they have our greatest admiration for their bravery, for what they do and the risks they take daily to keep us safe."