Colchester chemical scare: Council 'puzzled' by cause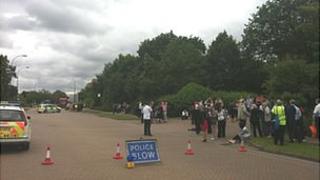 A council in Essex has said it is "very puzzled" by the cause of a second suspected chemical leak at one of its buildings in 10 days.
Essex County Council's offices in The Crescent, Colchester, were evacuated on Monday morning after 11 staff complained of nausea and dizziness.
On 29 June, four people were taken ill at the site in another chemical scare with reports of a "noxious smell".
Council officials said its call centre could be closed for days.
Jeremy Lucas, the council's environment and culture portfolio holder, said the second outbreak had left officials "very puzzled".
"The mystery is that clearly we don't know what has caused this," he said.
"It happened 10 days ago in what seemed like a one-off occasion."
He said everything had returned to normal after the evacuation on 29 June, which led the council to believe it had been a "freak situation".
Chemical checks
The fire service said staff would not be able to return for at least 48 hours.
But Mr Lucas said workers could face a longer wait to resume their duties inside Essex House.
"We are open-ended on that one," he said.
Contingency plans have been put in place using call centre space in Chelmsford. Priority will be given to children's and adult social care, he said.
Mr Lucas said some callers may have to wait longer or find themselves referred to the council's website.
Health Protection Agency officials have been called in to examine the cause.
Ambulance service spokesman Gary Sanderson said none of the 11 casualties were taken to hospital.
A spokesman for Essex fire service said tests on the air-conditioning system had found "no sign" of any chemical which could have caused the problem.