Clacton shooting: Peter Reeve gun possession investigated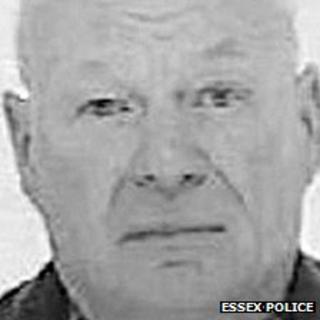 Detectives are investigating how the suspected gunman who shot dead an off-duty PC in Essex came to have an unregistered weapon and ammunition.
Ian Dibell, 41, was killed in Clacton-on-Sea on Monday after it is thought he intervened in a row in which another man was also shot.
Peter Reeve, 64, the suspected gunman, was found dead with a handgun in a churchyard at Writtle, near Chelmsford.
Police are also investigating how Mr Reeve got from Clacton to Writtle.
Mr Reeve's body was found outside All Saints Church, about 40 miles from the murder scene. He had suffered a head wound.
"This continues to be a live murder investigation being led by the Kent and Essex Serious Crime Directorate," an Essex Police spokesman said.
"Detectives are now interviewing witnesses and gathering information regarding the full circumstances leading to the death of police officer Ian Dibell and deceased murder suspect Peter Reeve.
"A file will now be produced for the Essex Coroner ahead of an inquest."
Essex Police Chief Constable Jim Barker-McCardle paid tribute to the PC who he said had "paid the ultimate price" by placing himself in the line of fire.
He said: "Ian was an extraordinary man doing an extraordinary job. He was proud... to be an Essex Police officer and proud to serve the community in which he lived.
"Ian's tragic death reminds us all that it's not the uniform that makes a police officer but the instinctive, brave and selfless help to others.
"I have no doubt that Ian knew of the danger he was facing when he stepped in to protect a member of the public whilst off duty and without any thought for his own safety.
"He had an incredible devotion to his community - a devotion which led to his paying the ultimate price."
Mr Barker-McCardle, who visited the officer's family on Tuesday, added: "Essex Police is a family and we are all hurting and grieving.
"This tragedy is a stark and profound reminder that, ultimately, officers give their lives in the service of others."
The chief constable said Mr Reeve, who had family connections in Clacton and Chelmsford, did not hold a firearms licence.
A statement from PC Dibell's family said: "We are immensely proud of Ian and the courage he showed.
"We take some comfort from his bravery. Policing was in his blood and Ian selflessly went to the aid of people in desperate need without fear or thought for his own safety.
"It was he who was a hero. He has paid for the act in the most devastating way. He will be deeply missed and no words can describe the loss."