Jail for Essex father who struck dog with meat cleaver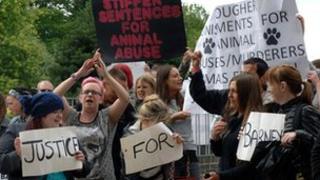 A father-of-two who shot his dog at least 17 times with an air rifle before repeatedly striking it in the head with a meat cleaver has been jailed.
Magistrates in Colchester heard how Andrew Summerfield, from Colchester, left his bull terrier Barney on the A12 with "horrific" injuries on 10 July last year.
Summerfield admitted the offences but said he had acted in self defence.
The RSPCA welcomed the sentence of six-and-a-half months in prison.
'Extremely shocked'
Dozens of animal rights protesters gathered outside the court complex with placards and jeered as Summerfield arrived to be sentenced.
Summerfield was found guilty in his absence at a previous court hearing which he failed to attend.
Sentencing him to 26 weeks in prison, magistrate bench chairman David Druitt told him: "This was a sustained, brutal and horrific attack on an animal with a clear intent to kill."
In court, Lynne Shirley, prosecuting, told how police found Barney between junctions 27 and 28 of the A12 with a head wound in which a "quarter of the front top of his head" was missing.
Flies and maggots, the court heard, had formed a "blanket" over the head wound, she said.
He also had a cut to his neck from where a noose had been left.
Mrs Shirley said the officers were "extremely shocked at the injury" and the "fact the dog was still alive".
The officers, who closed the A12 in both directions because Barney was getting up and walking around, arranged for a vet to deliver a lethal injection at the scene, the court was told.
Barney had been shot at least 17 times and hit with a meat cleaver at least eight times, the court was told.
Dog microchipped
Summerfield, from Defoe Crescent, was tracked as the owner because Barney had been microchipped.
At first, Summerfield told police he had sold the dog for £10 the previous day.
But an air rifle and meat cleaver found at his home were matched with the incident, the court was told.
Hendrika Tatam, for Summerfield, said her client had mental health issues and had been diagnosed as bi-polar.
Medication for his condition had made him "violent", Miss Tatam said.
"He is very, very sorry for what has happened to the dog in question," she said. "He accepts full responsibility for injuries the animal sustained."
She said he felt he was acting in self defence, though no further details were given to the court.
After the case RSPCA Inspector Steve Craddock said it was one of the worst cases of animal cruelty he had seen.
He said although he was pleased with the prison term handed to Summerfield, he would like magistrates to have tougher sentencing powers for such animal cruelty cases.