Clacton PC Ian Dibell shooting: Child witnesses in case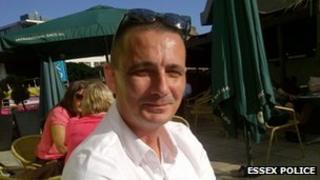 Young children witnessed the fatal shooting of an off-duty police officer in Essex, it has emerged.
Ian Dibell, 41, was killed in Clacton-on-Sea on Monday after it is thought he intervened in a row.
Peter Reeve, 64, the suspected gunman, was found dead the following morning with a handgun in a churchyard at Writtle, near Chelmsford.
Police have spoken to primary school-aged children who saw the shooting, in which a second man was also injured.
Their headteacher said they were "distressed" on Tuesday but were now back in school.
She said the children were calmer since being reassured the danger had passed.
Murder investigation
The headteacher said the children were "robust" and no counselling had been necessary.
It is understood they have been told not to recount the events they saw to anybody.
Their classmates are unaware the children were witnesses, the headteacher said.
Essex Police is continuing with its murder investigation.
Central to the investigation are how Mr Reeve got the handgun used in the incident and how he travelled 40 miles from Clacton to All Saints Church in Writtle.