Future of Chelmsford Shire Hall to be decided by new group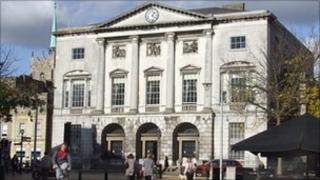 Businesses or community organisations could be allowed to move into a listed former courthouse, it has emerged.
Essex County Council has been looking at the future use of the 220-year-old Shire Hall complex in the centre of Chelmsford since the court service moved out in April.
The county council said it would keep the freehold of the Grade II listed building.
A group has been formed to decide which organisations might take it over.
The group includes representatives from the county council, Chelmsford City Council, Changing Chelmsford and the Civic Society.
Malcolm Noble, of Changing Chelmsford and the Chelmsford Civic Society, said: "I am glad to see that Essex County Council has made it clear that it will be retaining Shire Hall in public ownership.
"This is a positive step forward in protecting the heritage of Chelmsford and improving the vibrancy of this part of the city."